Between Lives Spiritual Regression Training
Have you ever wanted to:
Be able to guide people through their Past Lives and Soul memories in the interlife?

Learn effective therapy models that can transform negative emotions and beliefs, freeing your clients from unresolved experiences from the past?

Have you wanted to explore your own Past Lives and Soul memories from the spirit realms?
If your answer is "YES!", enroll for the "Past and Current Life Regression Therapy Practitioner" 8 Day Course, and "Between Lives Spiritual Regression 4 Day Course" in a capital city near you, and become a Diploma Qualified Therapy Practitioner in 2020!
________________________________
Tony runs a range of professional courses in:
Hypnosis
Past and Current Life Regression Therapy
Between Lives Spiritual Regression
Diploma in Regression Therapy (Past and Current Life Regression Therapy and Between Lives Spiritual Regression combined)
There are 4 modalities in all - they can be taken separately to add to existing skills, or as a progression of skill sets to immerse yourself in your preferred modality. All courses are designed to give you a full range of proven, practical, and effective tools that are suitable for a variety of therapeutic practices.  All courses are endorsed by the International Institute for Complimentary Therapists and at the successful completion of your training you will be eligible for Professional Membership and Insurance with the I.I.C.T.

Between Lives Spiritual Regression Course
This course is designed give you the skills and knowledge to guide a client into deep hypnosis and explore their soul memories of the in between lives state. The training is based on the groundbreaking work and instruction of Michael Newton and his books "Journey of Souls" and "Destiny of Souls". It includes lectures, live demonstrations, supervised pair work, and supervised case studies after the course. During the 4 days every student will have the chance to guide a full Between Lives Spiritual Regression, as well as experience their own. The training covers:
The client preparation and interview
Hypnotic deepening techniques for LBL
The crossover from a past life to enter the soul memories between lives
Experiencing rejuvenation energy to heal profound past lives
Connecting with Spirit Guides and Teachers
Meeting soul groups, and links between soul groups and people in this life
Meeting the Council of Elders who assist in planning the next life
Physical body selection for this life
Other activities in the between lives state
Starseed souls – different types and purposes
Reincarnation into this life & the experiences of entering the unborn baby
Overcoming blockages
Seeking advice for the client from the Elders
Integration into the client's present life
Upcoming courses:
Sydney, N.S.W. – November 2019 (dates tbc)
Sunshine Coast QLD – Nov / Dec 2019 (dates tbc)
Training Investment – $1,495
It includes lectures, supervised practice sessions, demonstrations, group discussions, supervised post course case studies, and a short exam for certification. When added as a third module to the 8 day Past and Current Life Regression Therapy practitioner training, you will qualify for a full Diploma in Regression Therapy (go to the Diploma In Regression Therapy section below). For students who have been trained by other institutes, you are welcome to join the Between Lives course provided you have sufficient qualifications and experience as a Past Life Regression facilitator. (A limited number of low cost accommodation options will be available at each venue – contact Tony for details)
Other Courses coming in 2020
NEW - Modules 3 and 4 in Past and Between Lives Regression Therapy - Advanced Techniques
Full Sensory Perception (F.S.P.) - Pleiadian Lightwork Healing Modules 
Practitioner and Master Practitioner of NLP / Hypnotherapy / Time Line Therapy(R) and NLP Coaching - 2020
Upcoming Courses - 2020 Schedule
PLEASE NOTE: Due to Corona Virus Restrictions, all dates are presently being scheduled and subject to change according to new guidelines / state border closures etc. Course dates will be confirmed at the first available opportunity, and will be scheduled for dates that all enrolled students can attend.
Sydney, NSW
Module One - Thurs 27th to Sun 30th August, 2020 (confirmed)
Module Two - Thurs to Sun, Sept or Oct 2020 (exact dates TBA)
Sunshine Coast / Brisbane, Qld
Module One and Module Two - held consecutively over 9 days. The course will be held from a Saturday to the following Sunday - Wednesday will be a rest day
Proposed dates - Sat 12th to Sun 20th September, 2020 (If the Qld border is closed, next proposed dates will be in October 2020)
Perth, W.A.
Module One and Module Two - held consecutively over 9 days. The course will be held from a Saturday to the following Sunday - Wednesday will be a rest day
Proposed dates - October or November 2020, subject to WA border restrictions
Melbourne, Vic                                                                                                                                                                                                              Enquire for details for 2021
Adelaide, S.A. - enquiries for 2020 now open                                                                                                                                                       Module One 2020 - Enquire for details                                                                                                                                                           Module Two 2020 - Enquire for details
FULL COURSE PROSPECTUS
Download a prospectus for fully comprehensive information on all aspects of the training program, including information on payment plans and venues and logistics for each capital city.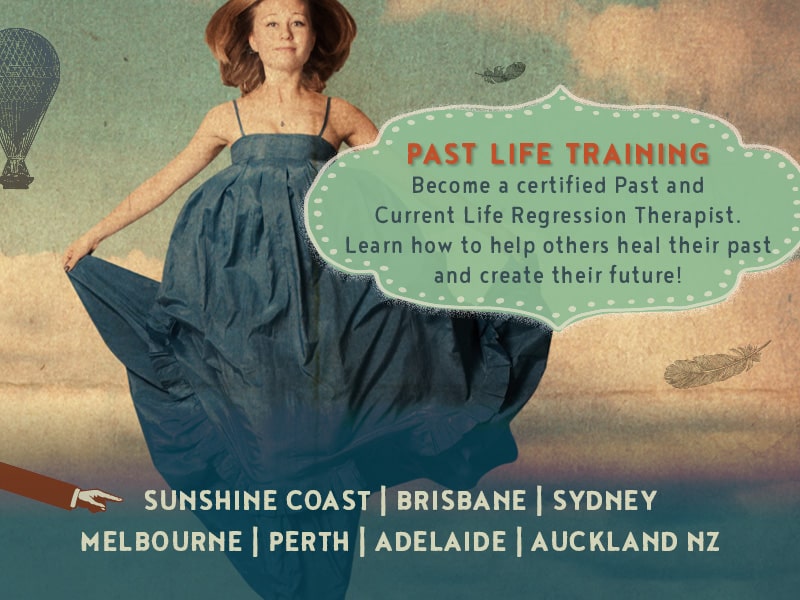 To enroll in a training
Please download and complete the relevant registrations form for your capital city, and return to Tony.
Once the form and deposits have been received you'll receive an email confirming your place. For further information on any of the trainings, please send an email or you can arrange a time to phone Tony on 0420 249 592.
If you have no formal training in hypnosis and would like to attend a Foundation Course to prepare for the Past Life Regression training, workshops can be arranged in your closest capital city or local area if a minimum number of students enrol in the course. Please register your interest with Tony Collins, and a Foundation Course can be held at your nearest location where possible.
Alternatively the 4 day Foundation Course can be trained in an online, one to one format.
YOUR TRAINER  Tony Collins
Diploma Regression Therapy, Diploma Clinical Hypnosis, Certified Life Between Lives Practitioner, Master Practitioner NLP, NLP Coaching and Time Line Therapy(R), NLP Trainer, Hypnosis Trainer