Past Life Regression Training
Have you ever wanted to:
Be able to guide people through their Past Lives and Soul memories in the interlife?

Learn effective therapy models that can transform negative emotions and beliefs, freeing your clients from unresolved experiences from the past?

Have you wanted to explore your own Past Lives and Soul memories from the spirit realms?
If your answer is "YES!", enroll for the "Past and Current Life Regression Therapy Practitioner" 8 Day Course, and "Between Lives Spiritual Regression 4 Day Course" in a capital city near you, and become a Diploma Qualified Therapy Practitioner in 2020!
________________________________
Tony runs a range of professional courses in:
Hypnosis
Past and Current Life Regression Therapy
Between Lives Spiritual Regression
Diploma in Regression Therapy (Past and Current Life Regression Therapy and Between Lives Spiritual Regression combined)
There are 4 modalities in all - they can be taken separately to add to existing skills, or as a progression of skill sets to immerse yourself in your preferred modality. All courses are designed to give you a full range of proven, practical, and effective tools that are suitable for a variety of therapeutic practices.  All courses are endorsed by the International Institute for Complimentary Therapists and at the successful completion of your training you will be eligible for Professional Membership and Insurance with the I.I.C.T.

Past and Current Life Regression Therapy Practitioner – 8 Day Practitioner Course
If you choose to go on to 'Between Lives Spiritual Regression' as an additional 4 day module, you will qualify for a Diploma in Regression Therapy, endorsed by the I.I.C.T. For costs and details on the Diploma program scroll down to below the 'Between Lives Spiritual Regression' course.
For a comprehensive understanding of the Regression Diploma, listen to the audio file embedded in this webpage, or download the "Full Course Prospectus" PDF file further down the page.
This training covers beginners and advanced techniques for using Regression Hypnosis to treat past and current life issues professionally with clients.
It is taught in 2 x 4 day modules with approximately 2 months in between modules, and is suitable for students with prior training and experience with hypnosis. The course engages all 3 aspects of the client's consciousness – the mind, body and soul, and is designed to enable a student to resolve deep and long standing issues with their clients. It includes a range of modern hypnosis, techniques and concepts from indigenous cultures, and spiritual energy healing tools to obtain the best possible healing outcomes.
Between modules one and two there is time for you to practice with people and hone your skills. You will be given up to 6 hours of one to one supervision for 3 client case studies via email, phone or Skype. After module two you will be given up to 12 hours one to one supervision for 4 client case studies, and your post course exam.
Classes are small in number to maximize your learning (up to 9 students per class) and practice sessions are held in quiet, private rooms to allow you to fully focus on the skills being taught. During the course you will have many opportunities to experience and heal your own past lives and gain a deeper understanding of your soul purpose in this lifetime.
Experienced therapists and professionals in other modalities can enroll after obtaining basic Hypnosis skills – the 2 and 4 day Hypnosis courses offered by this training company are designed to obtain the necessary skill set for Regression.
Outline of the Course Content
Introduction to Past Life Hypnosis and Therapy
Prime Directives of the Unconscious mind and the importance of memory
How memories are stored
Overview of the 3 selves (Body, Mind and Soul) – their functions, and which levels of consciousness you're working with in Past and Current Life Regression
Overview of the Past Life and Soul progression model of human experience
The importance of the first event – the root cause of a problem / activation of a soul lesson
Hypnosis methods for Past Life Regression – guided visualization, progressive relaxation, confusion etc
Practical applications of association and disassociation in Past Life Hypnosis
Using Hypnosis to explore Past Lives
Navigating potential blocks during the past life
Transforming unresolved events in Past Lives for a therapeutic result in the clients current life
The importance of the death point
The interlife – soul aspects, soul purpose and "helpers" (spirit guides, other souls etc)
Using timelines to locate relevant current life memories, bridge back to the original source of a problem, and navigate between relevant past lives
Interviewing techniques and symptom gathering – what to ask and why
Advanced Hypnotic Language patterns
Educating the client, expectation setting and goals for Past Life experience
Transformation techniques, including how to safely and permanently transform the memory of a traumatic event in a past life, or the current life
Basic techniques for working with intrusive energies
Training Investment – $2,790 (if already trained in Hypnosis)
Training Investment – $2,890 (if Hypnosis Home Study is required)
The Training includes:
lectures & supervised practice sessions
demonstrations & group discussions
supervised post course case studies
a pre-recorded video series of every technique in the course manual
every lecture from your live training recorded and given to you on USB at the conclusion of each module
a short exam for certification
ongoing webinars on Regression and other spiritual topics
opportunities to market your private practice through the school website
access to low cost professional membership and insurance through the International School of Complementary Therapies (I.I.C.T.) upon being certified (student insurance during your case studies is also available)
(A limited number of low cost accommodation options will be available at each venue – contact Tony for details)
Early bird specials:
1. book and pay the full training fee 30 days before your first module and receive a $290 discount – $2,500
or – $2,600 if you require the Hypnosis Home Study Program
(Payment plans are also available – please request a registration form for details, or download a registration form for your preferred city further down the page)
Other Courses coming in 2020
NEW - Modules 3 and 4 in Past and Between Lives Regression Therapy - Advanced Techniques
Full Sensory Perception (F.S.P.) - Pleiadian Lightwork Healing Modules 
Practitioner and Master Practitioner of NLP / Hypnotherapy / Time Line Therapy(R) and NLP Coaching - 2020
Upcoming Courses - 2020 Schedule
PLEASE NOTE: Due to Corona Virus Restrictions, all dates are presently being scheduled and subject to change according to new guidelines / state border closures etc. Course dates will be confirmed at the first available opportunity, and will be scheduled for dates that all enrolled students can attend.
Sydney, NSW
Module One - Thurs 27th to Sun 30th August, 2020 (confirmed)
Module Two - Thurs to Sun, Sept or Oct 2020 (exact dates TBA)
Sunshine Coast / Brisbane, Qld
Module One and Module Two - held consecutively over 9 days. The course will be held from a Saturday to the following Sunday - Wednesday will be a rest day
Proposed dates - Sat 12th to Sun 20th September, 2020 (If the Qld border is closed, next proposed dates will be in October 2020)
Perth, W.A.
Module One and Module Two - held consecutively over 9 days. The course will be held from a Saturday to the following Sunday - Wednesday will be a rest day
Proposed dates - October or November 2020, subject to WA border restrictions
Melbourne, Vic                                                                                                                                                                                                              Enquire for details for 2021
Adelaide, S.A. - enquiries for 2020 now open                                                                                                                                                       Module One 2020 - Enquire for details                                                                                                                                                           Module Two 2020 - Enquire for details
FULL COURSE PROSPECTUS
Download a prospectus for fully comprehensive information on all aspects of the training program, including information on payment plans and venues and logistics for each capital city.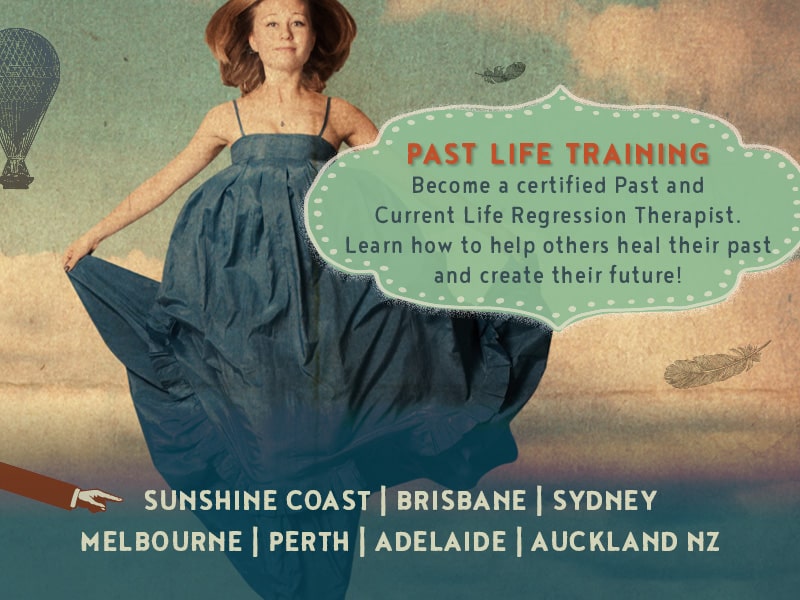 To enroll in a training
Please download and complete the relevant registrations form for your capital city, and return to Tony.
Once the form and deposits have been received you'll receive an email confirming your place. For further information on any of the trainings, please send an email or you can arrange a time to phone Tony on 0420 249 592.
If you have no formal training in hypnosis and would like to attend a Foundation Course to prepare for the Past Life Regression training, workshops can be arranged in your closest capital city or local area if a minimum number of students enrol in the course. Please register your interest with Tony Collins, and a Foundation Course can be held at your nearest location where possible.
Alternatively the 4 day Foundation Course can be trained in an online, one to one format.
YOUR TRAINER  Tony Collins
Diploma Regression Therapy, Diploma Clinical Hypnosis, Certified Life Between Lives Practitioner, Master Practitioner NLP, NLP Coaching and Time Line Therapy(R), NLP Trainer, Hypnosis Trainer